Day 1.St Peter Port to Le Gouffre 9 Miles.
Starting point St Peter port Aquarium. Start on the coastal path proper by taking the steps, which rise on the left of the Aquarium entrance and twist their way to the top of the cliff. This easy path undulates gently up and down through an attractive wooded area. At about 40 minutes into the walk you come to some steps which descend to the left and within a short distance arrive at a tee junction,, if you wish to visit the British Garrison cemetery you now take the steps to the right and at the top turn right into the cemetery, here you will find the graves of upwards of one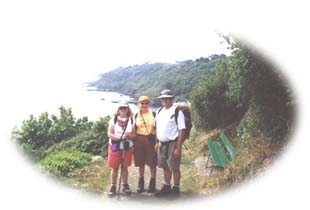 hundred German soldiers. Now return to the junction and descend the steps, after about fifty-five minutes walking you take the steep steps down to the left sign posted Fermain Bay. The bay is a very attractive place with a nice stream descending through a thickly wooded valley to reach the sea ,there is a pleasant but rocky beach with toilets and a caf?. The impressive Pre Martello tower here was built in 1778-79. Further along the coastal path you come to a short section of tarmac road running from the drive of a large house on your left and

signposted Calais to the right, take a short detour inland here and visit the small group of attractive ancient cottages which make up the little hamlet of Calais, gardeners will appreciate the beautiful gardens .When the peninsular, that is St Martin's point, comes into view take the path to the right that rises steeply and zig zags up to the car park on the top of the Jerbourg peninsular. An easy section of path with fine views takes you to "Moulin Huet Bay" this is the area that inspired Renoir when he visited the Island and was where he painted his famous work Pea stacks . After negotiating a series of steep steps but no route finding difficulties you arrive at the fine beach at Petit Bot Bay where you can find toilets and a small caf? that sells beer or pots of tea. Finally rounding the headland of La Moye point a wide sandy track leads you to the small hamlet of Le Gouffre which is well hidden in a gorge like setting.