Day 2. Le Gouffre to Lihou 10 Miles.
The path resumes at Le Gouffre by crossing the small stream, and ascending the steps to the seaward side of the tea shop, at first following the signs to la Corbiere to enter the little hamlet of Bigard, and then passing through a sparsely wooded area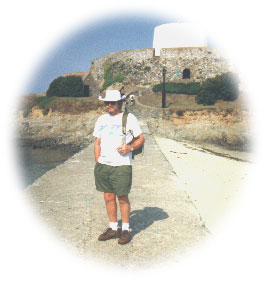 known as Plaine des Camprots, where we spotted a Dartford Warbler. The path descends into a deep valley and climbs up to La Prevote to arrive at the first of two second world war German lookout towers, now you will cross a number of car parks, but keep to the cliff top path where the views to seaward are stunning and the path is now a wide grassy track. Look out for the low building surrounded by high shrubs on the right of the path, this house is Mont Herault Watch House and is the setting for the Haunted House in Victor Hugo's novel "Toilers of the sea"Just before you reach the second German Tower you can look down on your left hand side into the huge chasm,which is the Souffluer Blow hole,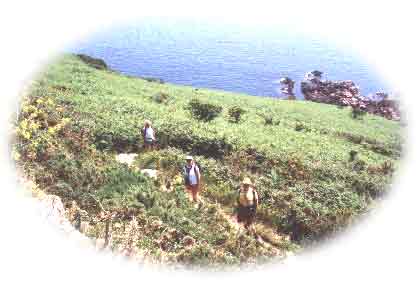 if the sea is rough, you will hear it before you see it. After passing through a car park followed by a number of TV relay towers the main path turns with the coast on an easterly heading between high hedges, here you must look out for a path that drops down towards the sea on your left to the "table des Pions" a stone circle. When you reach a small car parking area at the end of the road follow the road to your right passed the old fort to arrive at Portelet Harbour. If the tide is out you can continue the walk by walking along the beach, which is only interrupted by the short climb up to Fort Grey until you reach the slipway at L'Eree and the start of the stone causeway to the magical Island of Lihou.