Start out from the Tower and if the tide is out go down the slipway to the east onto the shingle beach at Pembroke Bay. I walked across the bay avoiding a rocky section on the seaward side, and approached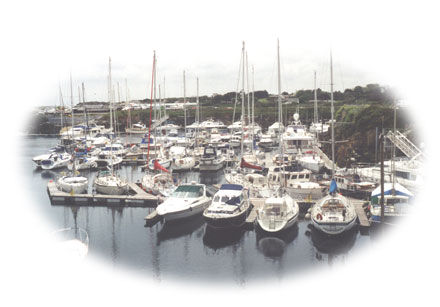 >the car park at Vale by clambering onto a long stone jetty and strolling inland. We made our way to fort Le Marchant and along the wide sandy beach of L'Ancresse bay, before stopping for our lunch at Fort Doyle. The Marina at Beaucette is well worth a look into as it was blasted from an old quarry during the seventies,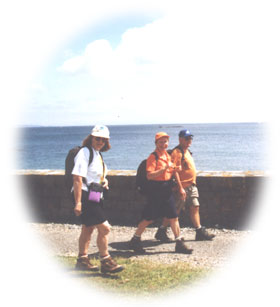 from the viewpoint you are standing well above the moored boats. Keep near to the sea on these little country lanes until you see the sign for the 5000-year-old Dehus Dolmen, which is one of the largest passage tombs on the Island and is illuminated with an electric light. From the Dolmen go south and turn towards the sea within five minutes, where after a short walk along the shore you arrive at a well situated picnic spot with views across Bordeaux harbour.As you approach the Castle at St Sampson you can follow a nice path between the castle and the sea to arrive at the harbour side in St Sampson. If it could be said that Guernsey had an industrial area the road that runs next to the sea here would be it, but you are soon passed all that and walking on a section of grassy common which runs between the road and the sea. It is now a pleasant two-mile walk back to St Peter Port to complete the circuit of the Island.