Day 4.
Herm Island Circular Tour 3.7 Miles.
Herm is the nearest Island to Guernsey and the shortest ferry crossing. We caught the 10 o'clock ferry and we disembarked 25 minutes later at the little harbour on Herm Island. Most of the people on the ferry headed into the little shopping and eating complex adjacent to the harbour, but we set of heading north along the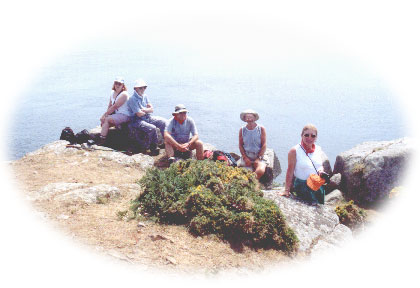 pleasant lane that runs beside fisherman's beach, soon to arrive at the tiny Cemetery that contains the graves of two infants who died of Cholera in the early 19th Century.Leave the cemetery and turn down to your left to reach Bear beach, and follow the foreshore until you reach the north facing Moussiniere beach. When we arrived at Moussiniere beach we were treated to the site of a large seal bobbing it's head up and down in the water just of the shoreline, it seemed to us that it came in closer to the beach to afford us a better view. Further along this quiet beach we saw Turnstones and Oyster Catchers amongst the rocks looking for food.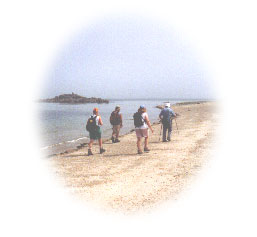 At the westerly end of the beach we turned right onto a southerly bearing, and followed the shoreline along Shell Beach, which is reputed to be the best beach in the Channel Islands, we could see why. We had our picnic amongst the sand dunes on this beach and The path undulates gently up and down over a rocky headland and soon reaches Belvoir beach, which is a very popular area and becomes crowded later in the day.
With extensive views southeast we arrived above Puffin Bay and stood watching the Artic Terns wheeling and diving above the waves like Swallows of the sea, a large colony was nesting on the rocky slopes of a little island just offshore. The next section of the path is very dramatic with high cliffs and deep rocky inlets before it swing back to the north and after descending a section of steep steps you arrive back at the harbour having walked just less than 4 miles but what a variation in scenery.