Group Photo Reproduced by courtesy of The Guernsey Press
Other photos by... Carole Melvin, Mick Melvin.
Each year at spring bank holiday time, the members of Bradford CHA organize a walking holiday. The ranks of the group are swelled by members of Halifax and Huddersfield branch's of the CHA. Over the years the group has holidayed as far a field as Ireland, Scotland, Wales and even the Isle Of Wight, but this year we planned to walk around the coast of the beautiful Island of Guernsey.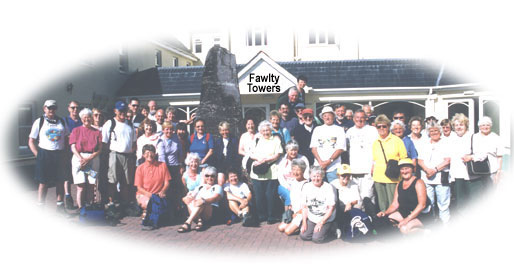 During our stay on the Island we were very fortunate with the weather, each day the sun shone for us, and we had some lovely walks. Over the course of the week some of the group visited the Islands of Herm, Sark and others visited Jersey for the day, that's what I like about the CHA you are not expected to walk every day if you don't want to. As usual this years members came from a very mixed age group, with one person celebrating her 78th birthday and one her 8th, we also celebrated two wedding anniversaries including a silver , so there was plenty going on throughout the week. I am looking forward to next years holiday and many happy walking days in-between now and then
By Carole Melvin